Janesville City Council to vote on whether to ban bicyclists in Palmer Park pet area | Government
Pet owners are putting pressure on the city to prohibit bicycles in the 36-acre pet area in Palmer Park. 
But city officials and parks and recreation committee members argue dogs, owners and bicyclists can share the area harmoniously.
The Janesville City Council on Monday will vote on whether to prohibit bicycles in the Palmer Park pet exercise/training area.
The vote comes about two months after a handful of residents submitted public comments to the city council voicing outrage over bicyclists encroaching on one of three areas designated for pets to run and play without leashes.
Dogs are not allowed in city parks or on bike trails from May 15 to Sept. 15.
Designated pet areas include Paw Print Park on Oakhill Avenue and pet training and exercise areas at Palmer Park and the Rock River Parkway on Afton Road.
Dogs must be leashed in all other areas of the city.
Bicycle opponents have referenced a sign in Palmer Park that says bikes are not allowed on the unpaved trails within the pet area, but city officials say that sign was put up years ago and is not tied to any active ordinances.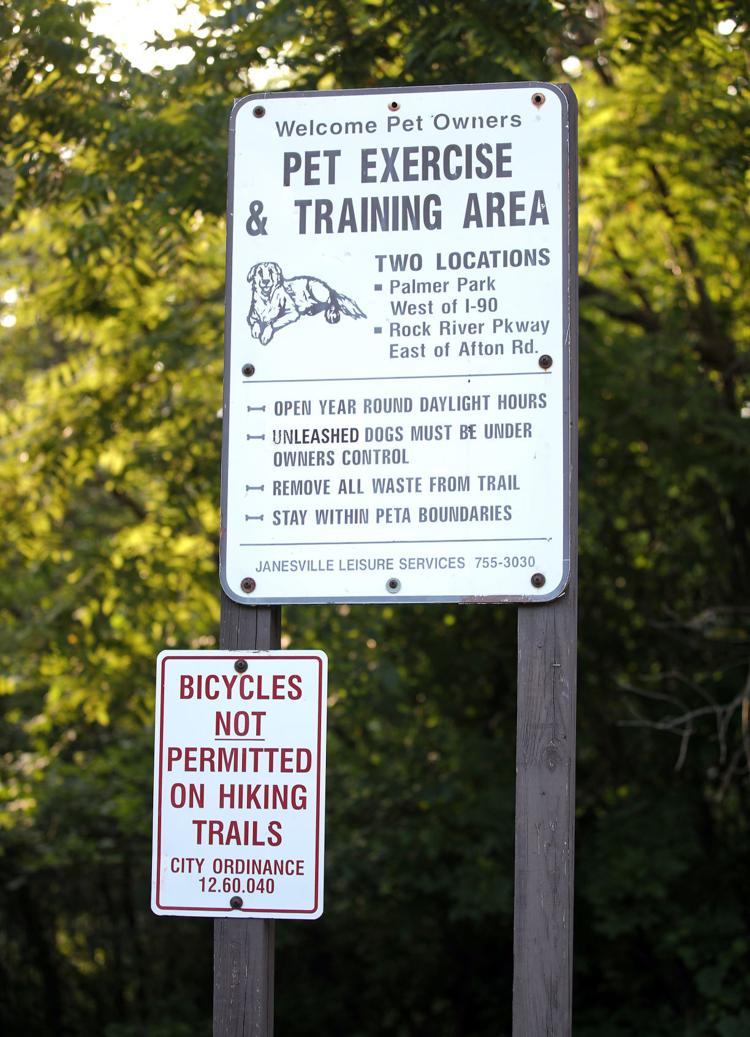 The city's parks and recreation advisory committee July 14 recommended that the city council allow bicycles in the pet area. 
The city staff recommendation echoes the parks and recreation committee's vote.
Committee members said they want users to co-exist in the area, according to a city memo.
The pet area includes nonpaved trails that are ideal for bicyclists, particularly BMX and mountain bike riders, according to a city memo.
But during a May city council meeting, dog owners argued it is not safe to have people riding bikes in areas where they might not be aware of dogs running without leashes.
Several residents noted bicyclists are welcome in most areas of the city, but dogs are restricted to only a few.
One resident said the pandemic has caused people to look for peaceful places, such as the dog area, and that bicyclists were rude and disruptive to the peace.
The same woman said she was bothered by a suggestion from city staff to visit Paw Print Park, which is on the city's south side and about a 6-mile drive from Palmer Park.
The city council could not discuss or act on the matter during its May meeting, but council member Paul Williams and council President Sue Conley suggested placing it on the agenda for a future meeting after staff review.