Comfort dogs come to the rescue for Van Buren County veterans | Localnews
PAW PAW — Two U.S. military veterans from Van Buren County are finding some comfort in the form of emotional support dogs they have received courtesy of a new program started by Van Buren County Veterans Services.
Jeff Burgett of Lawton and Marc Custer of South Haven, both U.S. Army veterans, were given their service dogs during a recent ceremony at Van Buren County Courthouse. Van Buren County board commissioners, who were in attendance, approved funding to establish a full-time Veterans Services office.
"The Emotional Support Services Animals is new to Veterans Services and this is its first year implementing this program," said David Krzycki, director of the county's Veterans Services program.
Both Burgett and Custer were grateful to receive their dogs. Burgett's pooch is a male 2-year-old black standard poodle named Scout, while Custer's dog is a 2-year-old female black Labrador retriever named Piper.
The dogs were chosen based on the needs of the two veterans, Krzycki said. The new program, implemented earlier this year, requested veterans who wanted emotional support dogs, to fill out an application to do so.
The Veterans Services office then chose the two recipients and contracted with Warrior K9's/Magnum K9 of Sturgis to select and train dogs appropriate for the veterans' needs. The company trains dogs for police departments and for people with special needs.
The two veterans who were chosen for the program this year met with their dogs and worked hand-in-hand with the trainers to get used to their pups.
The training program took upward of two months, involving the staff of Warrior K9's/Magnum K9 and the two veterans.
Both Van Buren County veterans said the training was worth it and they're happy with their new emotional support dogs.
"I was getting continually detached emotionally," Burgett said of his return from the Army in 2015. "I was depressed."
He said he thought if he could obtain a service dog for emotional support, it might help. But when he began searching agencies to obtain a service animal two years ago, he was put on hold. That was until he contacted the Van Buren County Veterans Services office in February.
"Most places I contacted were five years out," Burgett said. "The VA (Veterans Administration) told me about the Paw Paw office. Within a month I got an application. I feel great. It was amazing."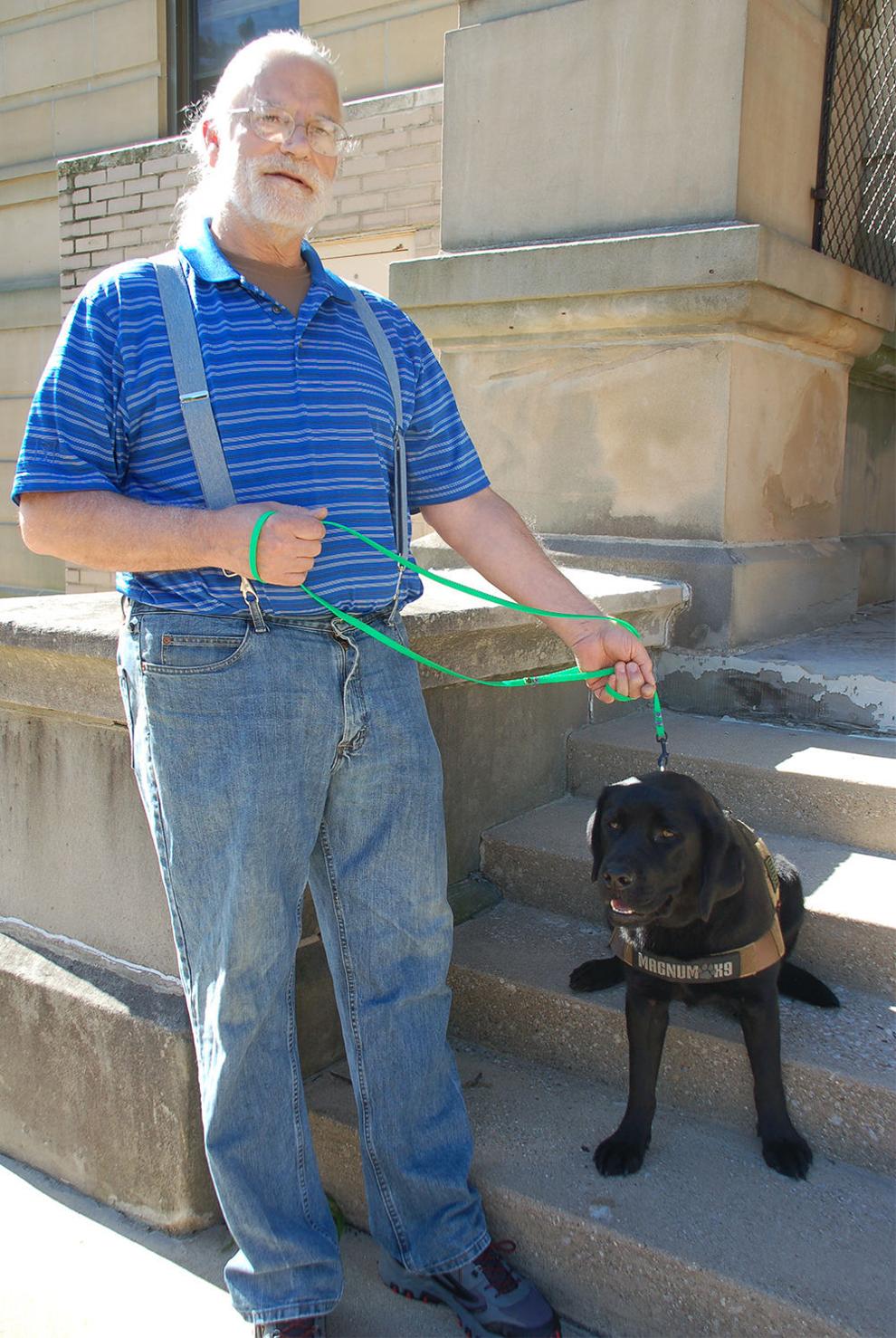 Custer, too, is happy to receive his emotional support dog, Piper. He said he had another service dog, Buddy, but he died a year ago from cancer.
When he met Piper during the training session, though, Custer said he found the right replacement for Buddy, his loyal pup of 12 years.
"God puts the right dog at the right time for you," he said.
Custer said his new service dog, Piper, will help him recuperate from an injury he suffered a year ago which made it difficult for him to walk.
"Without a dog, I'm doomed," he said. "She will help me keep walking."
The county's Veterans Services program hopes to provide funding from its grants to help train two more dogs to give to eligible military veterans in 2023, and hopefully beyond, Krzycki said.
It costs about $4,700 for the two months of training for each dog. In addition, the recipients of the dogs each receive a cage, cot and vest to indicate they are an emotional support dog.
"We are starting slowly and carefully. We want to make sure to do this right," Krzycki said.