Mount Pleasant's finest (and furriest)
MOUNT PLEASANT — When this therapy pup couldn't keep her nose off the ground, she took on a new profession to help sniff out cyber crime.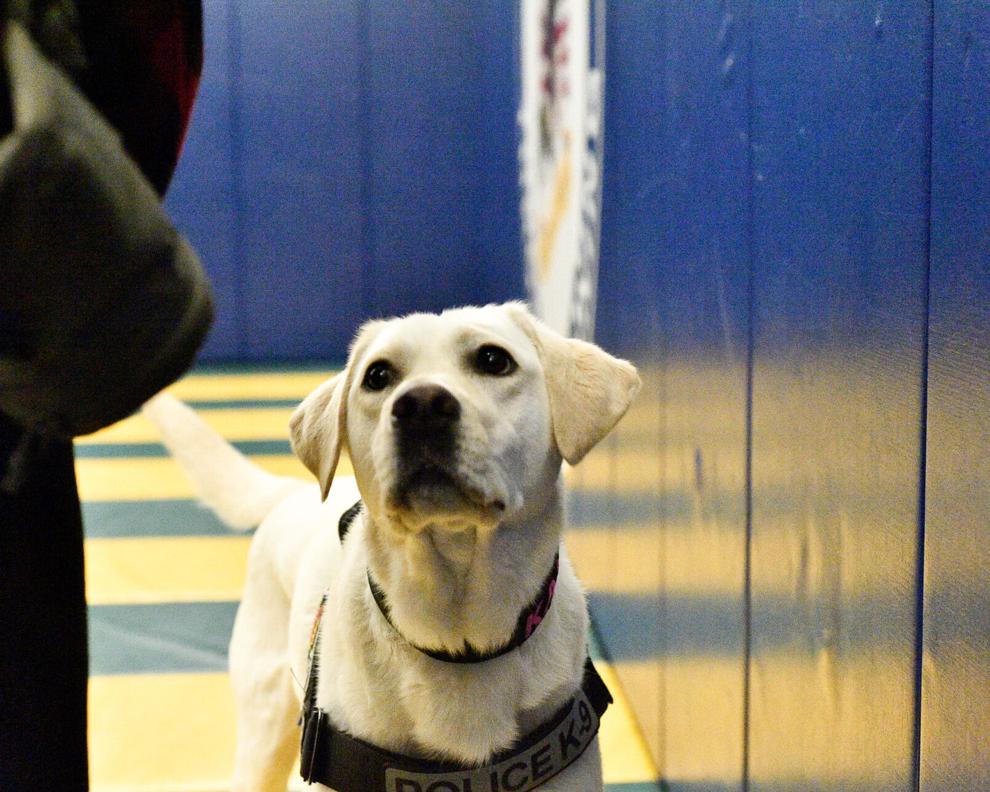 The Mount Pleasant Police Department, 8811 Campus Drive, has acquired a new K-9 officer: Kala the electronic detection dog.
Kala, a 2-year-old yellow Labrador retriever, is the newest member of MPPD's K-9 unit.
Kala was donated to MPPD by kNot Today, an organization that generates awareness, initiates prevention strategies and supports restorative services to end sexual abuse, exploitation and trafficking of children.
The organization also provided funding for Kala's training.
Kala began her life as a part of Circle Tail, an organization that trains therapy dogs.
While at Circle Tail, Kala often would sniff around, which told her trainers she would be good as a scent detection dog.
Kala uses her scent detection abilities to detect Triphenylphosphine oxide — or TPPO, a chemical compound found in the hard drives of electronic devices — when an area needs to be searched for electronic equipment such as cameras, Apple AirTags and thumb drives.
Kala is not a patrol dog like other K-9 officers such as German Shepherds Brutus and the late Ares.
Rather her designation is an "electronic storage detection" canine.
Kala, the first non-patrol dog for the village, also has experience as a therapy dog, so she is an asset for the department's Community Oriented Policing programs and can be petted, cuddled and used to comfort people during critical incidents.
Kala is one of five electronic storage detection K-9 officers currently in the state of Wisconsin.
Detective Justine Justman is Kala's partner on the force.
Unlike the patrol dogs, Kala lives with Justman.
"I think for me I'm lucky," Justman said. "She comes from a service dog background, so she's in the house with us. She's a part of our family, I know she belongs to the Mount Pleasant Police Department, but being a handler, she comes home with us and is treated just like family."
The only difference between Kala and the other animals at home with Justman is that Kala is rewarded with food as part of her scent detection training.
She is still fed regularly, but in between training sessions.
Justman works on internet security cases for the department, cases that involve child exploitation and human trafficking or financial crimes.
"The good thing about her is that we can use her for interviews," Justman said. "We used her yesterday and they were able to reach down and pet her."
Justman also teaches criminal justice at Case High School, and Kala comes with her and greets the students.
Justman refers to Kala as her "co-teacher."
"She's used for scent detection, but that's her main job," Justman said. "We can potentially use her as a comfort or a therapy dog. She goes around the PD and says hi to everybody. She's really friendly, so kids can pet her and there's no worry that she will act out; she will be really good to use in our COP stuff. "
Like the other Municipalities, MPPD's K-9 unit is funded solely by donations.
Many local businesses, including Educators Credit Union, Petco Racine and Racine Veterinary Hospital have donated money and services to welcome Kala onto the force.
MPPD Capt. Eric Relich said obtaining a police dog like Kala was a "win-win" for the force.
Not only can Kala be used for community orientated policing, but she can also go to elementary schools and perform demos, with Justman showing kids how her job is done, and teaching the importance of internet safety.
"The dog is good for criminal cases, but also puts smiles on people's faces," Relich said.
Kala will not be alone in being a new K-9 officer; the department is looking for a new patrol dog to replace Ares.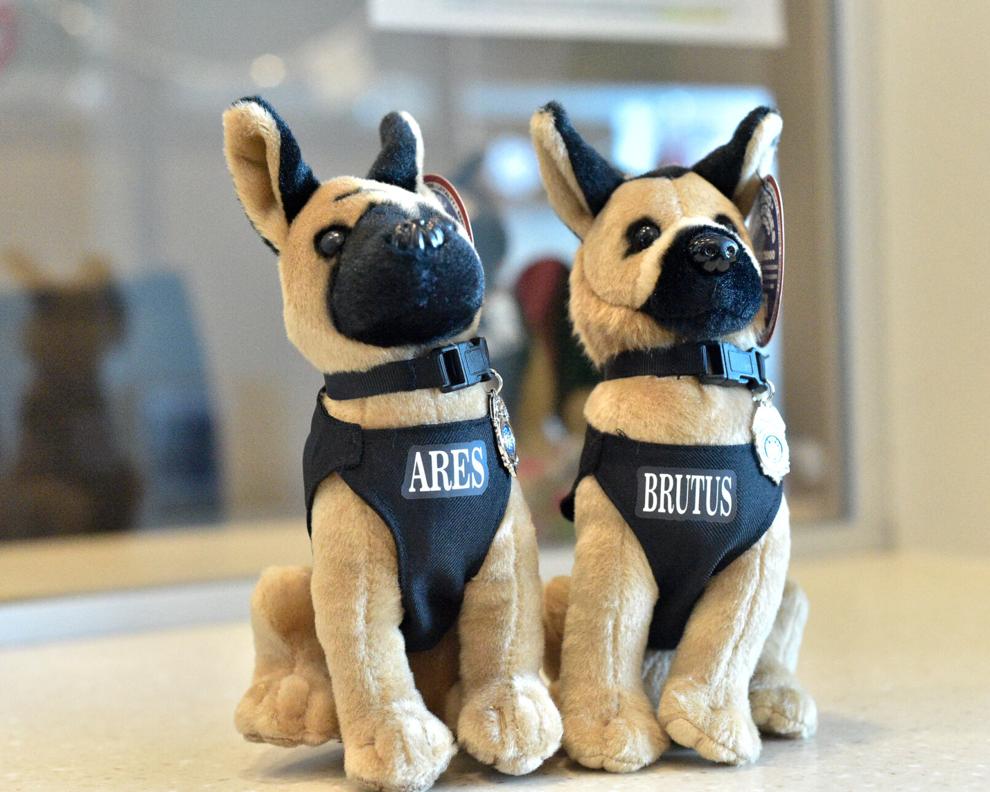 In addition to donations, the department also sells plushies with the likenesses of Brutus and Ares; a Kala version is on its way.
Kala's plushie is being funded by kNot Today, and the the department will have extras on hand to be used for crisis relief.
The plushies are on sale at the Mount Pleasant Police Department for a cash donation of $25.
Meet Kala, Mount Pleasant's new electronic detection canine
Dream team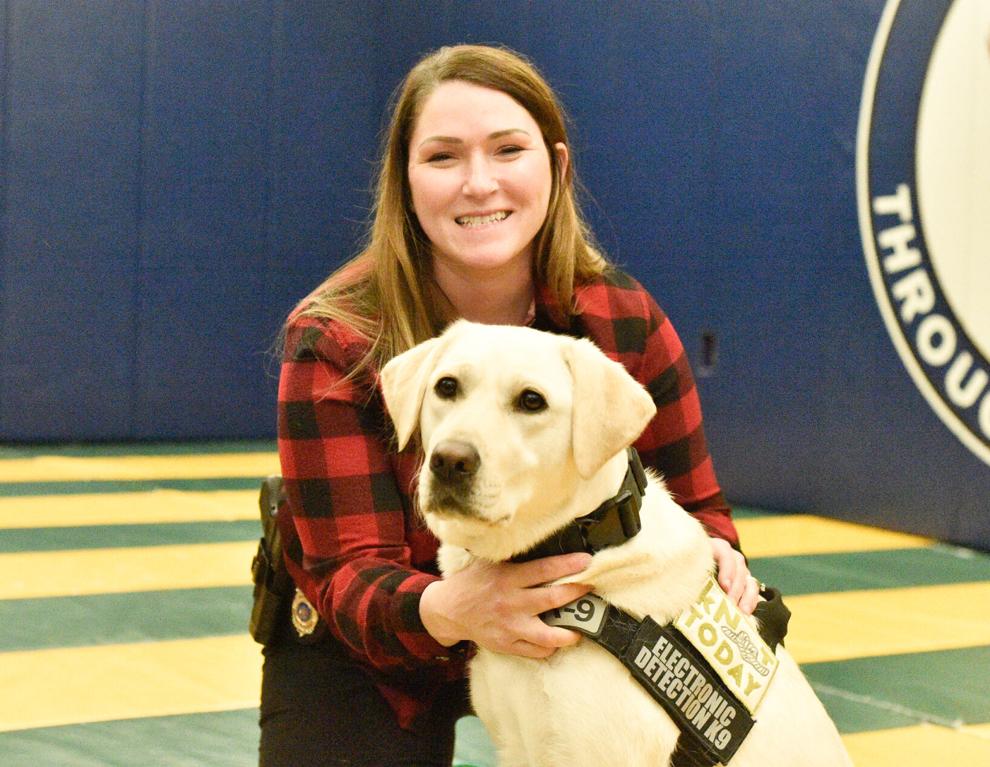 Kala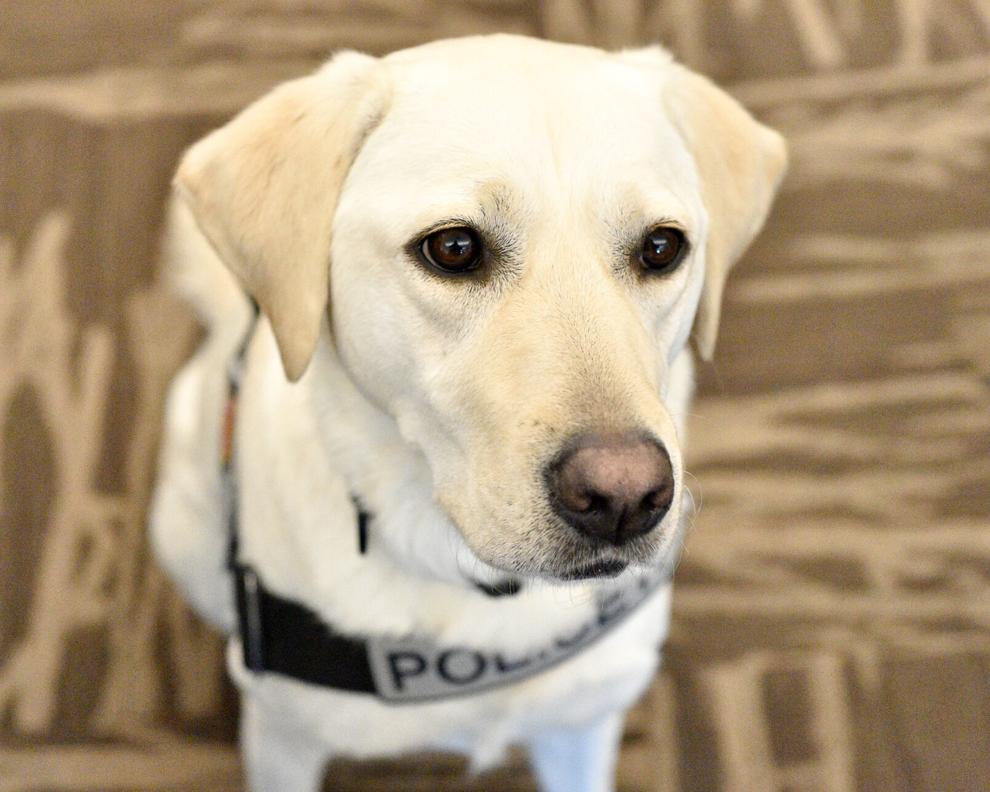 Going to work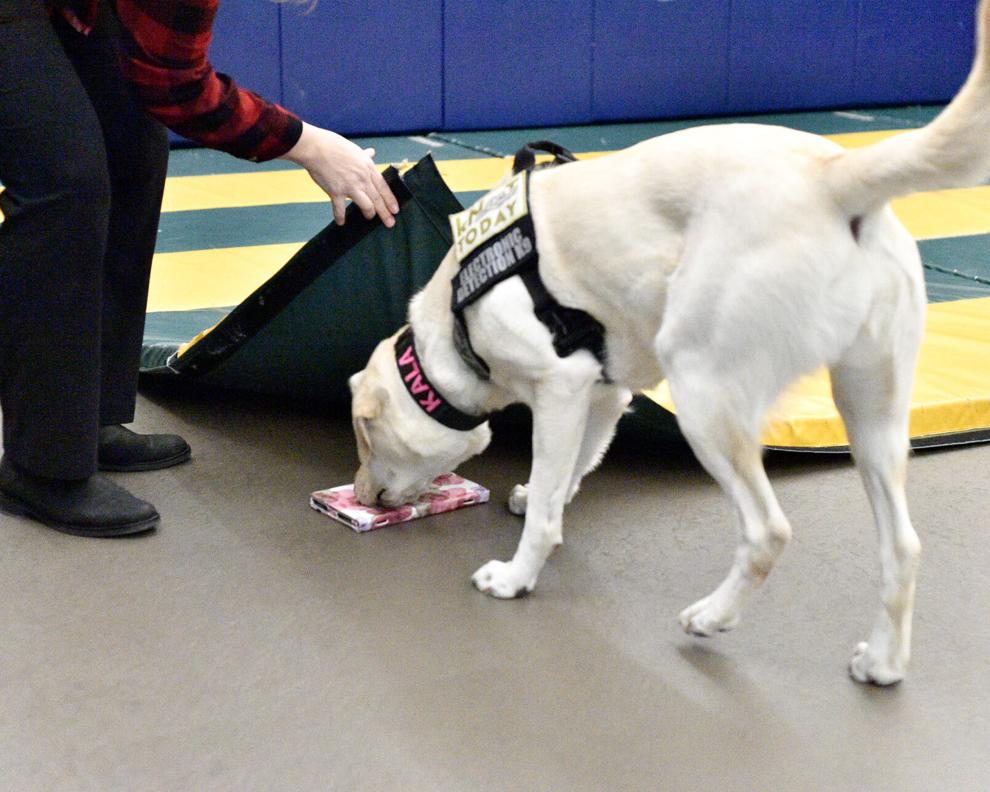 Quite the sniffer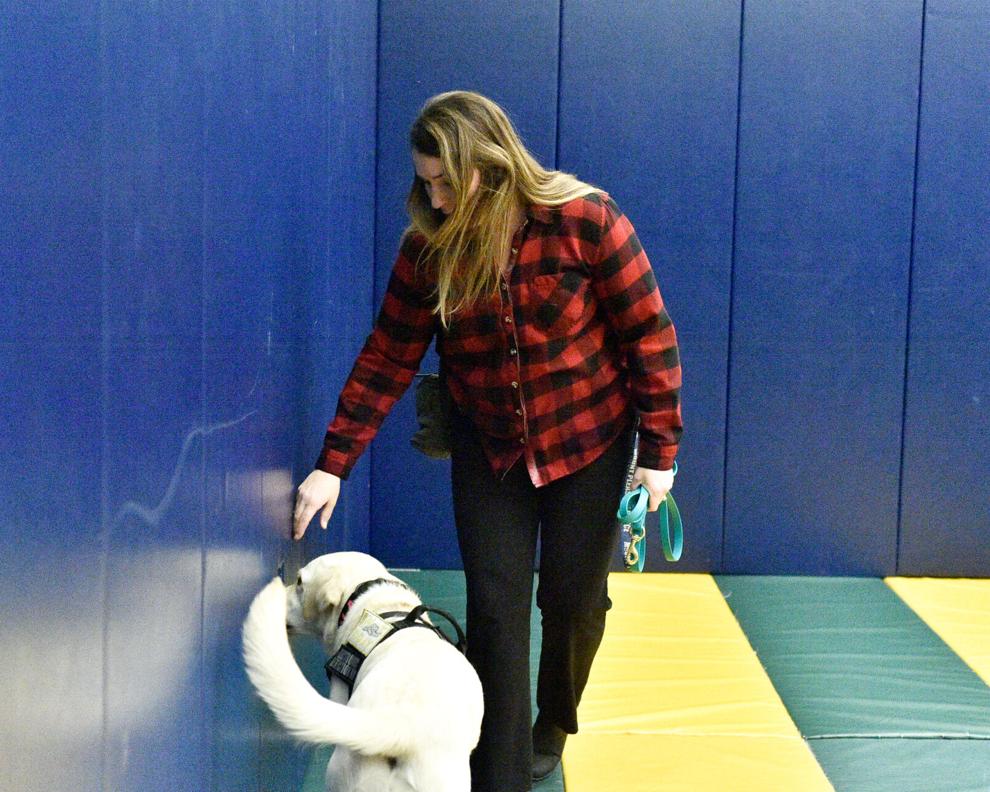 Kala the K-9 officer demonstrates her electronic detection abilities
Kala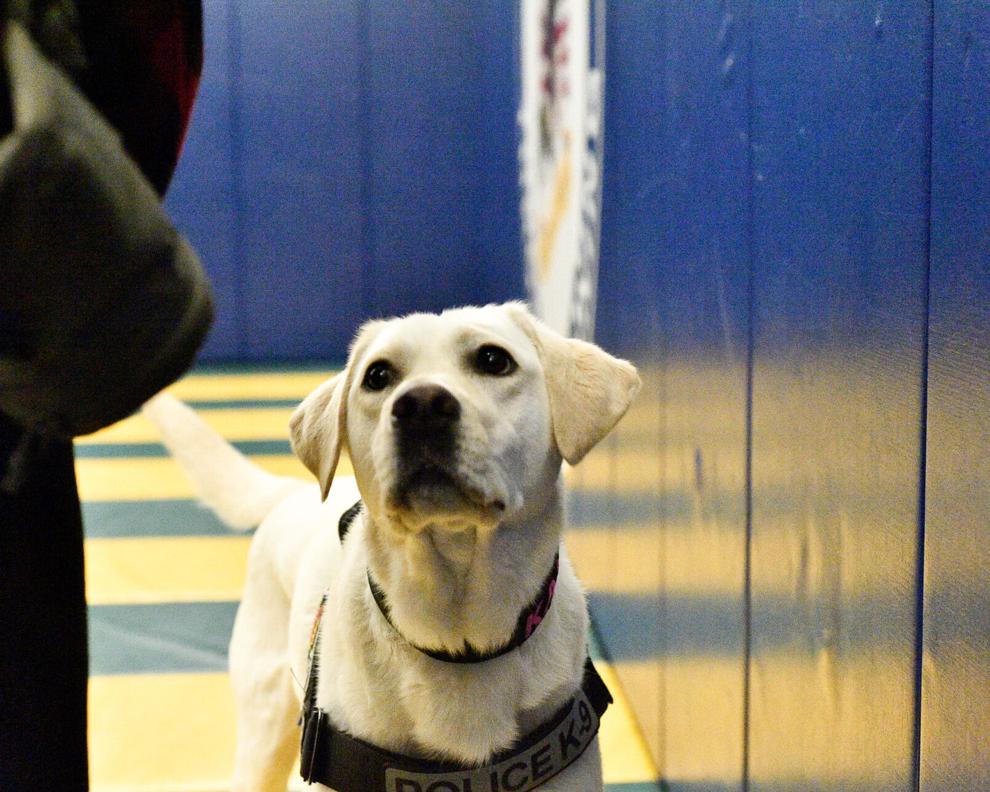 A police dog you can bring home